Tuesday, April 02, 2013
The Russian Education Forum 2013 has come to an end
On March 26-28, 2013 Sokolniki Exhibition and Convention Centre, Pavilion #4 hosted the XVII Russian Education Forum. During the three days of the fixed event period it was attended by over 4000 education experts, whereas the forum's exposition featured 200 organizations from all over Russia.

The X Anniversary Theoretical and Practical Conference, Dedicated to Pre-school Education took place within the framework of the forum, featuring performances by winners of the Eight Gems of the Preschool Education of Russia All-Russian Contest, reports by representatives of the Union of Russian Scitowns Development, the Russian Education Bulletin magazine (Vestnik Obrazovania Rossii). The forum also received hot participation from the Russian Sociologist Society, the Federal Education Development Institute, Sociology Institute under the Russian Academy of Sciences, Interindustry Preschool Educational Institutions Integration Centre (IPEIIC) (Russian: МЦИДО), and the Moscow State Pedagogical University.

Besides, the event comprised INNOVATIKA IN EDUCATION All-Russian professional contest. The jury board had a tough decision to make, however Butterfly in Hand, a volunteer movement model as a means of cultivating emotional intelligence of child's personality, as well as promoting moral maturity from Lyceum #36 under OJSC Russian Railways (Irkutsk) a non-governmental comprehensive educational institution was deemed the most efficient project of all submitted.

The event was thriving with other striking presentations and conferences, such as the Special (Remedial) Primary School & Kindergarten of type V №1708, Moscow conference, entitled "Integration Cooperation of Pedagogues, Children with Health Limitations, and Parents at the Special (Remedial) Primary School & Kindergarten of type V №1708, State Budget Educational Institution"; latest educational equipment presentation from the Educational Equipment Developers and Manufacturers Interstate Association (EEDMIA) (Russian: МАРПУТ); new generation of educational robots in LEGO Education MINDSTORMS EV3 presentation.

On March 28 the Russian Education Forum was concluded by participants' awards ceremony, the latter receiving certificates of honour for their contribution to the country's educational system development. The Organizers' Committee received a lot of favourable references and comments from the forum's attendees.

Moskau Messe and Sokolniki ECC would like to express gratitude for your attention to the forum this year and to invite you to the XVIII Russian Education Forum 2014!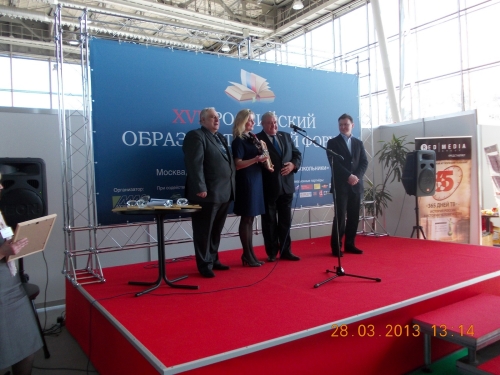 The Russian Education Forum 2013 has come to an end

Last update: Tuesday, April 02, 2013 5:22:18 PM