Wednesday, March 21, 2012
EGE.RF to hold career guidance for for schoolchildren as part of the Russian Education Forum'2012!
Professional orientation testing for schoolchildren to be organized at the EGE.RF project's stand within the 16th Russian Education Forum. EGE.RF stand is located in Hall A under number 4026.

The schedule of testing:
27th and 28th March — from 10:00 to 18:00 — every 30 minutes,
29th March — from 10:00 to 14:30 — every 30 minutes.

Test-takers, 8-11 form students, may assess their skills and professional qualities, as well as learn about the relevant profession.

All students are tested free of charge after the pre-registration at the EGE.RF stand.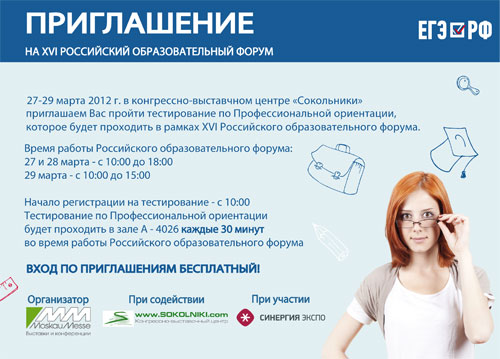 EGE.RF within the Russian Education Forum'2012
Last update: Wednesday, March 28, 2012 12:58:15 PM