Tuesday, May 22, 2012
Dmitry Livanov to be appointed Minister of Education and Science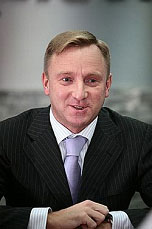 Dmitry Livanov was born on 15th February 1967 in Moscow.
In 1990 he graduated from Moscow Institute of Steel and Alloys, in 2003 – Moscow State Law Academy as a part-time student. Doctor of Physical and Mathematical Sciences.
Since 1992 he has worked at Moscow Institute of Steel and Alloys.
1992 – 2000 – a research associate, a senior research associate of synthesis research laboratory, associate professor at the Department of Theoretical Physics.
1997 – 2000 – Deputy Research Provost.
2000 – 20004 – International Relationships and Cooperation Provost.
Professor of Theoretical Physics (part time).
From April 2004 – Professor, Department of Metallurgy of nonferrous metals (combined duties). 2004 – 2005 – Director of the Department of State Science-Technology and Innovation Policy of the RF Ministry for Education and Science.
2005 – 2007 – State Secretary – Deputy Minister of Education and Science.
From April 3, 2007 to May 2012 – Rector of the Moscow Institute of Steel and Alloys, since 2008 – the National Technological University "Moscow Institute of Steel and Alloys."
Scientific activities – transport properties of metals, fluctuation phenomena in superconductors, physical properties of low-dimensional and amorphous metallic systems.
Author of about 60 scientific works, including 49 – in foreign press; textbook for high schools, "The Physics of Metals."
Laureate of Russian Government Prize for Education in 2011. He was awarded Gold Medal of the Academy of Sciences for young scientists.
Fluent in English and Italian. He is married and has two children.
Last update: Tuesday, May 22, 2012 1:07:05 PM