Wednesday, June 06, 2012
The 4th international summer theatre school opened in Zvenigorod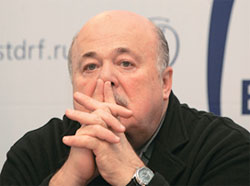 International Summer Theatre School has recently opened in Zvenigorod near Moscow. By tradition, young actors and experienced teachers gather for fellowship and joint projects.

The School to run until 29th June, during which time the project participants will be trained by the well-heeled Russian actors and directors: Alexander Kalyagin, Robert Sturua, Valeria Fokina, Sergey Zhenovach, Boris Lyubimov, Alexander Galibin and etc.

The school strives to bring innovations into educational process every time. Six performances mean six full-fledged theatrical projects that will be presented to the audience at the end of training. For the first time an opera production run by Olga Ivanova, director of Chamber Music Theatre named after B. Pokrovsky, is scheduled for 2012. The performances to be shown on the theatrical stages of Moscow, Zvenigorod, Serpukhov and Mytischi from 21 till 26 of June.

Professionally educated actors under 35 may attend the School. They should fill in a form and wait for an invitation to Moscow. Most of the participants, who have passed the competition this year, are very young, and are waiting for this summer's new happy turns in the actor's destiny.

Last update: Wednesday, June 06, 2012 11:52:57 AM