Thursday, June 07, 2012
Russian schoolchildren to have the second mandatory examination in mathematics on Thursday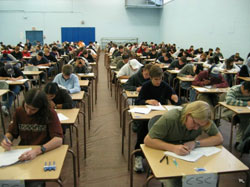 On Thursday, Russian school graduates to pass the unified state examination in mathematics ― one of the two required exams the results of which affect a lot receiving of school certificates.

This year, the USE is passed by 790,000 high school graduates, and 90,000 graduates of past years who have the right to pass state examination in 2012.

This week, graduates of Russian schools have already passed the exam in foreign languages and chemistry, which are not mandatory, but their results will be considered for admission to universities.

The first state exams in the main wave of information and computer science, biology and history, as well as a mandatory exam for Russian language students passed last week. Physics and social science students will take on 13 June, geography, literature - 16th June. As usual, for those who, for valid reasons could not come to the exam or do the work, provided back-up days from 18 to 21 June.

Like in previous years, the most popular exam is Social Studies, more than 500,000 people registered for it. The second most popular exam is Physics (more than 220,000 people). Then follow History (about 180,000 people), Biology (about 175,000 people), and Chemistry (about 100,000 people). The least popular exams are still German, French and Spanish, according to Rosobrnadzor.

As before, it is forbidden to use mobile phones and computing devices, as well as reference materials at the exam, but this year the penalties for violations are substantially tightened. Cancellation of the results without any right to retake the state examination in 2012, threatens to those students who will place the KIM materials on the Internet. Also, if the cancellation occurs in two compulsory subjects, a graduate will not be able to obtain a certificate the current year. Prior to this examination, the committees when considering such violations could afford a graduate retake the exam.

Since May 28, hotline for exam issues traditionally operates under the patronage of Deputy Chairman of State Duma Committee for Youth, Alina Kabaeva. The hotline is supported by Rosobrnadzor. In addition, the Public Chamber of Russia organized own hotline.

Most of the graduates will finish taking exams on 21st June. 1.6 thousand people including recruits and athletes have already passed the examination in advance.
Last update: Thursday, June 07, 2012 2:31:04 PM