Monday, June 18, 2012
The Government dispelled the rumors to fee-based school education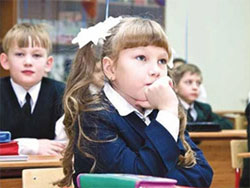 The Government dispelled the rumors to fee-based school education
Renewed federal education standard to put into practice in Russian schools in 2013.

Deputy Science and Education Minister Igor Remorenko dispelled the rumors to free education end: according to the standards, amount of educational hours to increase to one making 37 hours. As Igor Remorenko brought into focus, they will be free.

"Seniors study for 36 hours per week now. And according to the new education standards, it will be 37. The Government ensures that 37 lessons per week mustn't be paid," he commented.

All the changes to affect the choice principle of subjects to study: seniors will have an opportunity to decide what subjects and on what level to study during 10-11 grades.

However, the choice will be made in the framework of the two keys principle. The first key includes six general subjects willing to oblige for studying (Russian, Literature, Mathematics, Foreign language, Life safety and Physical culture). The second key should include some subjects from six education spheres at option (Philology, Foreign languages, Social studies, Mathematics and informatics, Natural sciences, Physical culture, Ecology and Life safety). According to the officials, this principle will help a pupil to create an individual education program in accordance with his or her interests and inclinations.

In addition, USE in foreign language will be one more examine obligatory.

It is planned to move to the new education standard by 2020.

Last update: Monday, June 18, 2012 2:13:20 PM