Friday, June 22, 2012
The 11th forum of school forest ranger stations to open in the Irkutsk Region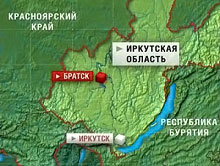 The 11th forum of school forest ranger stations opens today, on 22nd June, as part of the sport and recreation camp at Angarsk. 250 students representing 45 forestry teams of Irkutsk Forestry Agency and municipal educational institutions to participate in the forum. The regional government press service informed the IA REGNUM correspondent that the teams from Altai, Krasnoyarsk, Transbaikalian territories and the Republic of Buryatia filled their applications to participate.
Acting Head of Irkutsk Forestry Agency, Vitaly Akberdin noted that they will have lots of activities within the forum, including competition "The Best School Year Forestry" to be summed up, exhibition and contest of promotional materials "Save the forest alive!" In addition, the forum participants to take part in competitions "Young Forester", "Forest rangers" and other events.
51 school forest ranger stations involving more than one thousand children operate on the territory of the Irkutsk Region under the auspices of Forestry Agency of the region and Development Centre for Continuing Education.
Last update: Friday, June 22, 2012 1:37:13 PM