Tuesday, June 26, 2012
Graduation parties thundered around Russia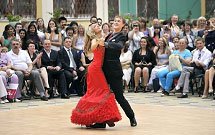 In Primorye, a concert on the main square of Vladivostok was arranged for the recent school graduates and on the seafront they took some photos as mementos.
In Irkutsk, the graduates were awarded statues of Goddess Nike ― as a symbol of victory at school and work, and after the ceremony a ball was staged and an excerpt from the ballet showed.
In St. Petersburg, the graduates danced for another record for the Guinness Book of Records. Thousands of school students synchronously moved with pop hits yesterday. Massive flash mob, however, was not registered — heavy rain kept from doing it. But pyrotechnic laser show took place over the Neva.
Last update: Tuesday, June 26, 2012 10:51:12 AM