Tuesday, September 18, 2012
Kultura Channel to launch art classes with Sergey Andriaka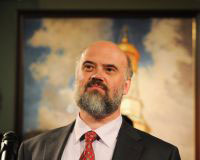 Drawing lessons with Sergey Andriaka TV-series to be launched by Kultura Channel from September 17th, according to the press service of Moscow City Department of Culture.

Sergey Andriaka, people's artist of Russia, will tell the audience how to build an image in graphics, how to represent space, what perspective means and its different kinds. The artist will also teach the basics of various drawing techniques. Under Andriaka's guidance the viewers will learn to draw still-life, animals and everyday objects.

The first lesson to be held is titled It all starts with an egg. The host will tell how to bring volume to an ellipse, lay a shadow, and shade it properly.

The series are to be broadcast Mondays-Thursdays at 11:15 a.m., and Saturdays at 1:55 p.m. The shooting took place at the Sergey Andriaka's Academy of Water Color and Fine Arts and at Moscow Zoo.
Last update: Tuesday, September 18, 2012 6:16:29 PM