Monday, October 08, 2012
Price for one-day menu for pre-schoolers to grow in 2013
The cost of one-day menu for Moscow pre-schoolers might get as high as 170 rubles from January 1st, 2013, said Nina Minko, Head of South borough education authority of Moscow Education Department.

"The menu price for pre-schoolers will grow. If one-day ration costs 130 rubles today, already we have a contract draft with the sum increased to 170 rubles", said the official.

According to RIA Novosti, this sum is not final, the calculations are still going on and it might as well get even higher.

Officials, however, think that parents worry in vain about the new nutrition standards. Despite kindergartens no longer employing cooks and nurses, pre-schooling superintendent authorities will still control their work, says the local government.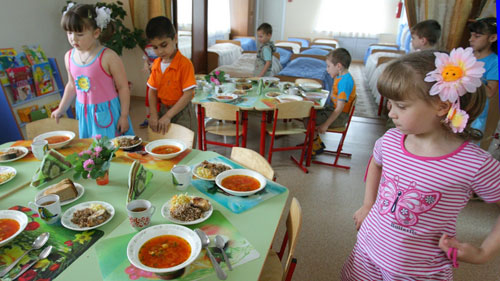 Price for one-day menu for pre-schoolers to grow in 2013
Last update: Monday, October 08, 2012 12:49:07 PM