Friday, December 14, 2012
State budget educational institution № 1708, a REF-2013 participant, to present innovations in special education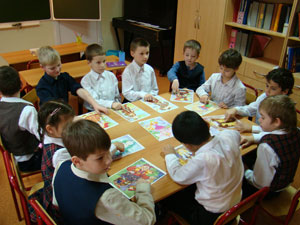 State budget educational institution (SBEI) № 1708 takes children with severe speech disabilities, as well as children with complex developmental disorders: alalia, attention deficit disorder, hyperactivity, emotional-volitional disorders, and motor impairment.

The school's mission is the maximum adaptation of children with severe speech disorders and complex developmental disorders in society through harmonization of physical and mental development, raising cognition motivation and forming a language system.

This is what T.N. Novikova, the school's director, has to say: «The Russian system of special (correctional) education comes to a new level of its development, this is why this system badly needs innovations, absolutely new as well as relatively well-known (implementing proven materials, methods and systems) to reach its goals. SBEI №1708 in the South-West Administrative District of Moscow has developed the Concept for future development (2009-2014) and the Study program, which both harmoniously combine new and proven innovations.

Our objectives:

Complex approach of our experts to dealing with children with special education needs.
Addressed education and upbringing of such children take place in a familiar environment; all stages of education starting with the early help department (2 months) and finishing with school training are efficiently designed and provide a great variety of options.
Transfer from one department to another, individual training, transition from individual to subgroup study, and transition from one class to another are all comfortable for children at our institution, as they take place in one school and are approved by parents.
Development and testing of author's pedagogical programs, deep individualization and personalization considering all aspects of the disorder, creating the basis for future education.
Constant improvement of professional level of all teachers in the facility.
Last update: Friday, December 14, 2012 3:07:07 PM