Wednesday, March 20, 2013
The Russian Education Forum is about to commence.
This year the Organizers' Committee has elaborated a schedule of business meetings to be held in conference-halls simultaneously with the exhibition on March 26-28, 2013. We welcome everyone eager to learn about the latest developments in education!
Over the last several years
Moskau Messe LLC
has been collaborating with a number of institutes and other educational institutions. Our partners arrive from lands far, far away, though we have some partners in Moscow as well. This year we are happy to welcome our colleagues from the Northern Capital. The Harmony Psychotherapy & Consulting Institute from Saint-Petersburg will present its under aged alcohol abuse primary prevention programme, entitled "I can answer for myself", aimed at adolescents and pedagogues working with them.
Nakhodka, Irkutsk, Tyva, Obninsk, Dubna will submit their work, ideas, programmes to INNOVATIKA IN EDUCATION All-Russian professional contest. Their growing potential will be evaluated by expert jury board on the second day of the forum (
see the business agenda here
). This time the Moscow State Pedagogical University, an old partner of ours, will deliver its welcoming address at the opening ceremony. Its Pre-school Education and Psychology Department students will play an interactive game with the guests; their homologues from Department of Music will give a performance at the forum's opening ceremony.
Educational Equipment Developers and Manufacturers Interstate Association (EEDMIA) (Russian: МАРПУТ) will present latest educational equipment at the conference-hall. Lego will also surprise you with new generation of educational robots in LEGO Education MINDSTORMS EV3 presentation and Build Your Story presentation, aimed at studying humanities in primary school.
The conference hall will be running the Special (Remedial) Primary School & Kindergarten of type V №1708, Moscow conference, entitled "Integration Cooperation of Pedagogues, Children with Health Limitations, and Parents at the Special (Remedial) Primary School & Kindergarten of type V №1708, State Budget Educational Institution", and a master-class by S.V. Lebedev – Pestushki group gaming session for parents and children with complex disorders.
Trade House "Shkolnik" (Schoolboy), will bring a presentation on MEKRUPHY laboratory equipment for experimental work at various education stages, whereas September PH, LLC has prepared School Administrator Methodical Support, Presentation & Raffle.
We urge everyone to join the business agenda of the forum, thus contributing to educational innovative section.
We are waiting for you at the Russian Education Forum!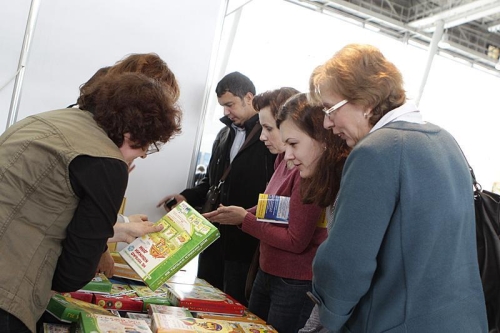 The Russian Education Forum is about to commence.
Last update: Friday, March 22, 2013 3:40:21 PM