Tuesday, May 29, 2012
2.5 billion rubles to be allocated to help disabled children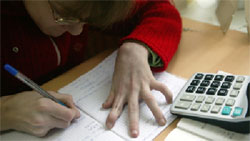 Russian Cabinet to allocate 2.5 billion rubles in subsidies in 2012 to let Russian regions organize distance education for disabled children. The pertinent document to be posted on the government website on Monday.
According to the decree signed by Dmitry Medvedev on May 24, 2012, Bashkortostan to receive 71 million rubles, the Republic of Altai - nearly 8.6 million rubles, Dagestan - 131 million rubles.
The Murmansk region to receive just fewer than 7.8 million rubles, and Chukotka - 2.9 million rubles.
At the same time as the Cabinet decided, Moscow to receive more than 17.1 million rubles for this purpose, and St. Petersburg - about 33.5 million rubles.
Last update: Friday, June 01, 2012 3:53:11 PM