Tuesday, February 21, 2012
TO ALL THE PARTICIPANTS OF THE 16TH RUSSIAN EDUCATION FORUM
On behalf of the State Duma Committee on Education I would like to welcome all the participants, guests and organizers of the 16th Russian Education Forum!
Improving education is one of the country's top priorities. Your Forum has become a real platform showcasing the best education results and achievements obtained in the framework of the Priority National Project 'Education,' Federal Target Program for the Development of Education, the National Education initiative 'Our new school,' and many other programs and projects in the field of education.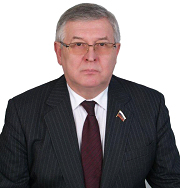 Chairman of the Committee
on Education, A. Degtyarev
А.Н. Дегтярев
The Russian Federation regions are actively involved in the Forum's extensive business and exhibition programs dedicated to current issues and problems of the Russian education system. This is where new ideas to improve the activities of educational institutions and implement innovative educational technologies appear.
It is obvious that education plays a major role in the innovative scenario of social development. The Forum's motto once again reminds us that pedagogical society plays an important role in building prospects for future development of human, and thus the entire society.
I wish you constructive and fruitful work!
Last update: Friday, February 24, 2012 12:44:05 PM